COVID-19 Update - Security an Essential Service
The New Zealand Government has recognised that SECURITY SERVICES are a designated essential service under the Public Safety and National Security sector and as such we will continue to provide security services to our clients during the Level 4 Alert.
The government has released a schedule of those businesses deemed to be essential services and including security services.
Whilst the guidelines are rather vague, our interpretation is that all workers who hold a current security licence (Certificate of Approval) will be covered under the essential service designation. This will therefore cover security guards, security technicians, security consultants, PI's and monitoring operators. We do not believe there will be any restrictions to the services being provided by those staff (for example technicians can still perform installs as well as servicing).
It should be current practice however we recommend that all staff carry/display their CoA's whilst on duty as evidence of their status as a licensed security employee should they be challenged by the public or authorities.
CCTV Cameras, Access Control & Alarm Systems
Security Alarms
We install and monitor Electronic Security Alarms for Business, Schools, Commercial Buildings, Retail and all kinds of properties.
"Over the last five years IQ SECURITY team have worked hard with us to find solutions to problems rather than merely fixing symptoms. They are always available and willing to provide support and technical advice, whether on an existing site or a new build. They are constantly seeking out new and better ways to achieve our security goals, without compromising our operational needs. The IQ team have the highest levels of personal integrity, and professional execution in relation to any work carried out for us. I have no hesitation in recommending IQ SECURITY for any security needs you have, as they perform outstanding workmanship, combined with excellent follow up and preventative maintenance."
Campbell Gourlay, Loss Prevention Manager - Bunnings Ltd
"IQ Security provided Mercury very capable assistance with the choice and implementation of the Visitor Management System. Concurrent with the new fitout we were also implementing a new employee and contractor identification system. IQ Security's people were available (often after hours) to resolve teething issues and accommodate requests. We have been provided with a quality new building that has the systems, processes and controls to allow us to adequately manage authorised entry and prevent unauthorised trespass.."
Duncan Annandale, Project Manager - MERCURY ENERGY
Call Us Now +64 9 441 7100
NZ FREE PHONE: 0508 IQ Security | 0508 477328
All calls are answered within 30s
by our friendly team
Monday to Friday from 8:30 AM to 5:00 PM

If you prefer, send us an email =>>
Some of IQ Security Projects in New Zealand
33 Broadway St for Mansons, Auckland
96 St George Bay Road for Mansons, Auckland
Bunnings Grey Lynn, Auckland
155 -167 Fanshawe St for Manson, Auckland
Kuehne + Nagel Mangere Auckland
Dynamic Supplies East Tamaki, Auckland
Business Parade South East Tamaki, Auckland
Bunnings Christchurch, South Island
Bunnings Westgate, Auckland
110 Grafton Road for Manson TCLM Ltd
Smartest Security Solutions for Businesses
From small business and shops to schools, big retailers chains and complex industries, our team is prepared to listen to your needs, design and propose the smartest solutions to meet your needs and budget.
We focus on our customers from design and project management, to installation, monitoring and ongoing maintenance. Check some of IQ solutions below.
Full or Partial Security Services
Design and Project Management
These are, arguably, the most important parts of any access control or building security solution.
Having the design completed right from the beginning can save you thousands as well as avoid all the stress of getting it wrong in the first place.
Talk to our Security Consultants!

Support and Maintenance
Ongoing Maintenance is critical to hassle free operations and gives you piece of mind to know that when you really need everything is ready and working.
Security systems need regular checks and maintenance to replace batteries, complete software updates as well as check its general health


We Are Proud Certified Channel Partner of World's Leading High-Quality Standard Electronic Security Products
Call us +64 (9) 441-7100
Our Promise to You
Have any Concerns or want to check your Security? Contact our team for a Security Consultation for free!
All calls answered within 30 seconds, all quotes designed by experts and sent within 3 days of meeting AND, yes, we turn up when we say we will.
Call us now on +64 (9) 441-7100 or email us on info@iqsecurity.co.nz.
December 4, 2019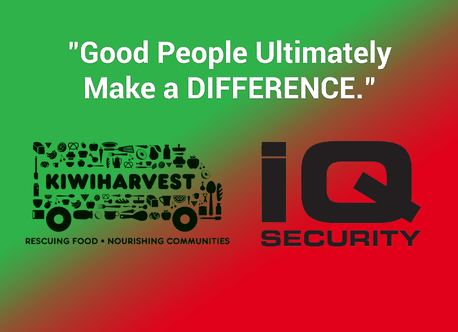 IQ Security is happy to provide Kiwi Harvest with its Security Solution System.Kiwi Harvest is a non-profit organization that rescues good quality food surplus and divert backs to people who are struggling across New Zealand. Currently, Kiwi Harvest has saved 3,200,000 kilos of foods, delivered 9,1...
read more
Download this and some other infographics to help you with your security:
Sign up to receive our monthly Newsletter!
Nationwide installation and support
Full Control Anytime, Anywhere
No more having to go to the office or back home when the alarm goes off. It's all at your fingertips!